I was born with a severe heart defect. My doctors didn't expect me to live long. However I had a happy childhood. Since that time I had the goal to work with children, so when the time came I went to college to become a teacher for music and German. Due to major complications of my heart condition I nearly lost my life. Like a blessing in disguise I was saved by having heart surgery in Salt Lake City, Utah. At this time the idea of using my experiences as a basis for my future professional life developed and I took up university studies of psychology in Salzburg, I wrote my dissertation and conducted multiple scientific studies. In 2014 I published my first book, wherein I share my experiences so that others can be bolstered up.
2014 erschien mein erstes Buch unter dem Titel "Leben(dig)". Es geht darin um die Fähigkeit des Menschen, trotz widriger Umstände ein erfülltes Leben führen zu können. Maßgeblich dabei ist das Phänomen der Resilienz. Im ersten Teil erzähle ich meine eigene Geschichte als Herzpatient. Sie ist exemplarisch für viele andere Menschen mit chronischen Erkrankungen. Der zweite Teil befasst sich mit der Frage, inwieweit psychologische Intervention den Krankheitsverlauf positiv beeinflussen kann. Trotz des ernsten Themas ist dieses Buch ein Plädoyer für die Hoffnung. Nicht  alles, was aussichtslos scheint,  ist auch wirklich aussichtslos. Krankheiten sind oft die Initialzündung für persönliche Reife – wenn wir die Chance, die darin liegt, produktiv nutzen.

"Todkrank – was nun?
Ich hatte mich vier Herzoperationen zu unterziehen. Dass ich die zweite überlebt habe, grenzt an ein Wunder. In meiner Odyssee von schwerster Krankheit zu bester Gesundheit konnte ich viele Tiefen, auch manche Höhen erfahren. Die meisten Erlebnisse dieser Zeit prägten mich in vielerlei Hinsicht, schärften meinen Blick im Leben auf Wesentliches. Die Leserin/den Leser begleitet ein schwer herzkrankes Kind, das sich nach schwierigen und risikoreichen medizinischen Behandlungen im In- und Ausland zu einem widerstandsfähigen Mann entwickelt und später betroffene Familien mit kranken Kindern psychologisch betreut. Der persönliche Entwicklungsbericht eines selbst oftmals und immer wieder mit Extremsituationen konfrontierten Psychologen beschreibt eindringlich die psychische Situation in einer Grenzsituation. Diese kann resilientes Potential aktivieren oder den Menschen verzweifeln lassen. Der Autor zeigt, mit welchen ihm innewohnenden Strategien er diese schwierigen Situationen bewältigen und für sich nutzbar machen konnte. Texte, die Menschen in schwierigen Stunden Mut machen und zwei wissenschaftliche Studien runden das berührende und gleichzeitig kurzweilige Werk ab."
You can purchase the book on the publisher's website, in bookshops, directly from my practice, or at one of my presentations or readings. I look forward to your reactions and feedback.
2015 wurde das Buch auch ins Englische übersetzt "(A)Live". Flourishing in the Face of Adversity" und wurde bei der London-Bookfair präsentiert, more details.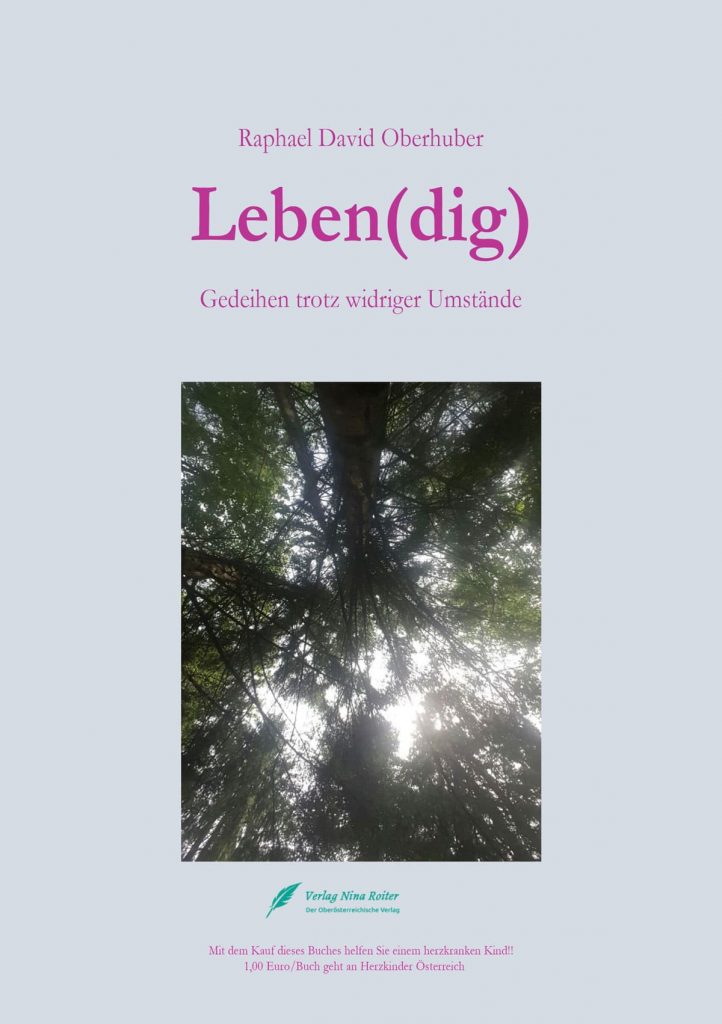 Anlässlich des Erscheinens meines Buches "Leben(dig)" strahlte der ORF einen Beitrag aus.
Original text for the contribution (taken from ORF.at):
Monday, September 29, 9:10 p.m., ORF 2
Subject - life by a thread
The 18 year old Raphael Oberhuber likes to meet friends, vie for the hearts of girls, likes to dance, goes up mountains or travels to Greece with a backpack. Nothing distinguishes him from the Sturm und Drang times of his peers. Seemingly! In reality, everything costs him many times more strength. Because he has lived with a hole in the heart septum since birth. This heart defect is only discovered when Raphael is already 14 - and then the chances are no longer good of being able to save him. Raphael Oberhuber's youth is a tightrope walk between life and death.