I was born with a severe heart defect. My doctors didn't expect me to live long. However I had a happy childhood. Since that time I had the goal to work with children, so when the time came I went to college to become a teacher for music and German. Due to major complications of my heart condition I nearly lost my life. Like a blessing in disguise I was saved by having heart surgery in Salt Lake City, Utah. At this time the idea of using my experiences as a basis for my future professional life developed and I took up university studies of psychology in Salzburg, I wrote my dissertation and conducted multiple scientific studies. In 2014 I published my first book, wherein I share my experiences so that others can be bolstered up.
In 2014 my first book was published under the title "Leben (dig)". It is about the ability of humans to lead a full life despite adverse circumstances. The decisive factor here is the phenomenon of resilience. In the first part I tell my own story as a heart patient. It is exemplary for many other people with chronic diseases. The second part deals with the question of the extent to which psychological intervention can positively influence the course of the disease. Despite the gravity of the subject, this book is a plea for hope. Not everything that seems hopeless is really hopeless. Illnesses are often the initial spark for personal maturity - if we use the opportunity that lies therein productively.

"Terminally ill - what now?
I had four heart surgeries. That I survived the second is a miracle. In my odyssey from the most serious illness to the best of health, I had many lows and many highs Experienced. Most of the experiences of this time shaped me in many ways, sharpened my view of the essentials in life. The reader accompanies a severely heart disease child who, after difficult and risky medical treatments at home and abroad, develops into a resilient man and who later provides psychological support to affected families with sick children. The personal development report of a psychologist who is often and repeatedly confronted with extreme situations describes the psychological situation in a borderline situation. This can activate resilient potential or make people despair. The author shows the inherent strategies with which he was able to cope with these difficult situations and make them usable for himself. Texts that encourage people in difficult hours and two scientific studies round off this touching and at the same time entertaining work."
You can purchase the book on the publisher's website, in bookshops, directly from my practice, or at one of my presentations or readings. I look forward to your reactions and feedback.
In 2015 the book was also translated into English "(A) Live". Flourishing in the Face of Adversity "and was presented at the London Bookfair, more details.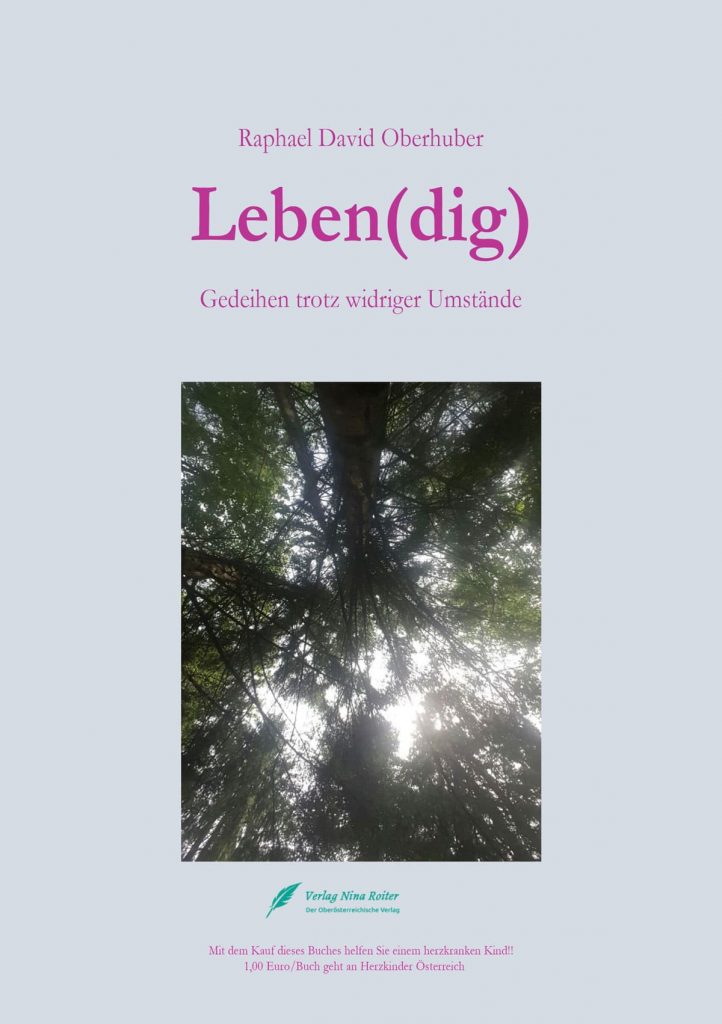 On the occasion of the publication of my book "Leben (dig)", the ORF broadcast a contribution.
Original text for the contribution (taken from ORF.at):
Monday, September 29, 9:10 p.m., ORF 2
Subject - life by a thread
The 18 year old Raphael Oberhuber likes to meet friends, vie for the hearts of girls, likes to dance, goes up mountains or travels to Greece with a backpack. Nothing distinguishes him from the Sturm und Drang times of his peers. Seemingly! In reality, everything costs him many times more strength. Because he has lived with a hole in the heart septum since birth. This heart defect is only discovered when Raphael is already 14 - and then the chances are no longer good of being able to save him. Raphael Oberhuber's youth is a tightrope walk between life and death.